The anthology Haunted Hotties Volume I has been released! My story, Houdini's Masquerade, is included in this anthology. It's so exciting! This one went through editing and on to publishing so quickly, it caught me a bit off guard. September and October are really busy for me with my day job. One minute I was updating the "works" page of this site with the cover, and the next – it was available!
Thank you so much to everyone who helped make this happen! I can't thank you all enough. Everyone from my support at home to my editor on this project were wonderful. I love working in anthologies and hope to do a few more in the coming year.
Here's a fun fact: part of my story was inspired by an episode of Drunk History I watched while folding laundry. Yes, really! Remember, inspiration comes from everywhere. I really love Drunk History…
Houdini's Masquerade was reviewed on Rainbow Book Reviews. It was quite a pleasant surprise!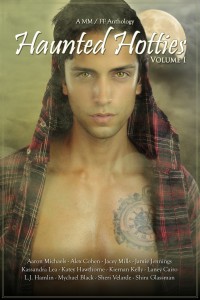 Haunted Hotties at Torquere
Houdini's Masquerade at Torquere
Haunted Hotties at Amazon
Houdini's Masquerade at Amazon